Intel on Wednesday unveiled its Balanced Builds initiative, under which the company plans to sell its CPU and GPU bundles aimed at mainstream gamers and enable PC makers to offer Balanced Builds systems with an optimal CPU and GPU configuration. One of the company's first bundles is its Core i5-12600K processor and an Arc A750 graphics card for $423.
Although Intel's high-enc Core i9 CPUs are among the best processors for gaming and are usually chosen by enthusiasts, Intel's current Arc A700-series graphics cards can offer an attractive balance between performance and price (which is why they are among the best graphics cards money can buy). However, they aren't a choice for high-end enthusiasts' builds. To that end, they do not have to be combined with Intel's premium Core i9 CPUs, as their performance potential will be fully demonstrated with more reasonably priced CPUs.
To prove this point, Intel compared the performance of its range-topping Core i9-13900K to several 12th and 13th Generation Core i5 and i7 processors across over 50 games. With more than 15,000 test runs, the company obtained plenty of data to find optimal GPU and CPU configurations for gaming. The results showed that GPU performance could be limited by a CPU up to a certain point, and the Intel Arc A750 and A770 GPUs usually reach peak performance when paired with a Core i5 or i7 CPU from the Alder Lake or Raptor Lake generations.
Interestingly, DirectX 12, which tends to be 'closer' to GPU silicon than its predecessors, showed minimal CPU sensitivity when tested with the Intel Arc A750 graphics card. Even a relatively inexpensive Core i5-12400F processor yielded similar results to higher-end CPUs.
The data also revealed that the sweet spot for entry-level graphics boards like the Intel Arc A380 lies with Core i3 chips. Mid-range GPUs like the Intel Arc A750 pair optimally with Core i5 and i7 processors, while a Core i9 CPU only makes a significant difference for ultra-high performance GPUs like Nvidia's GeForce RTX 4080/4090 or CPU-intensive non-gaming workloads.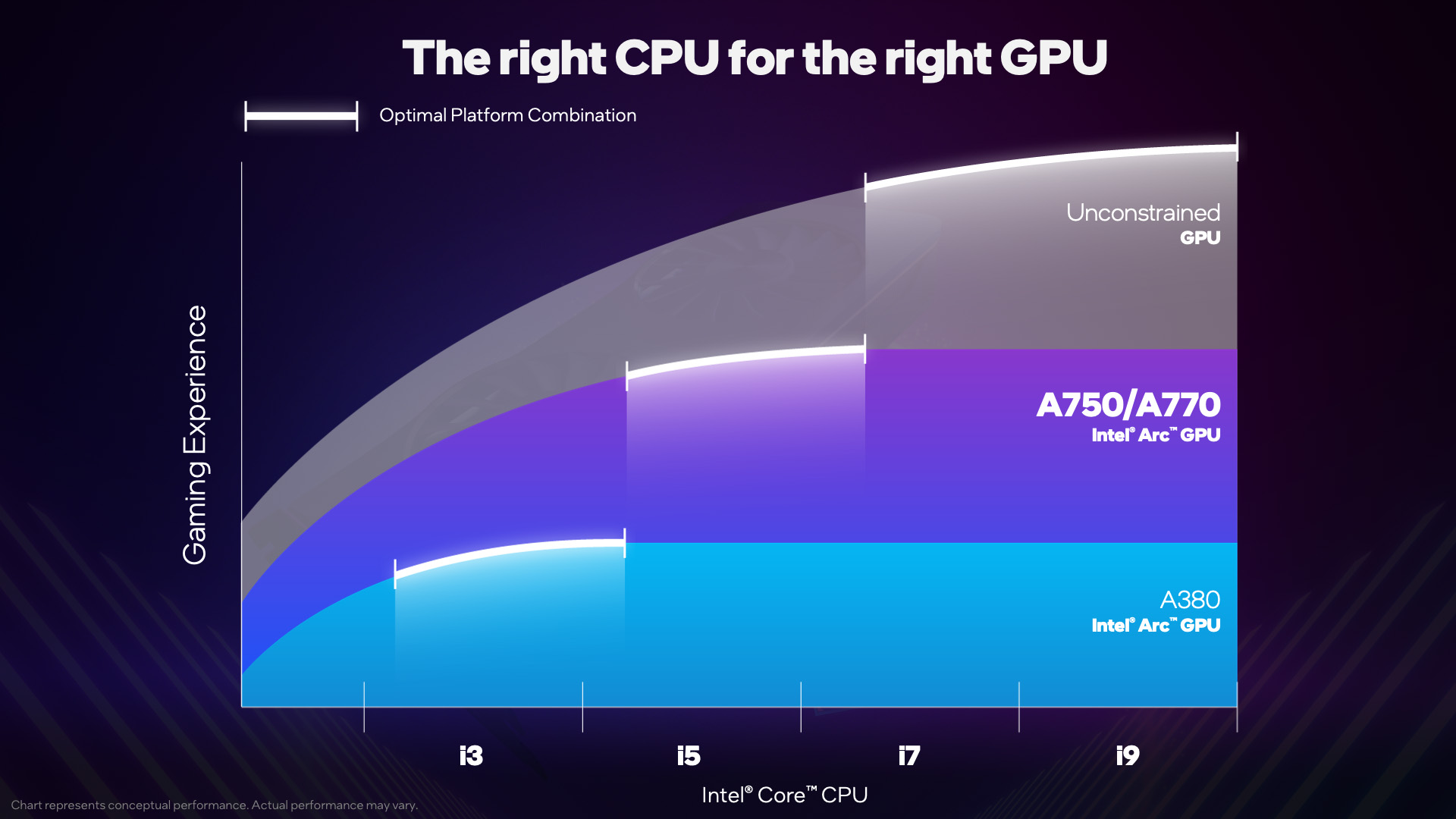 To address gamers looking for an optimal balance of price and performance (and now armed with Intel's GPU test results), Intel teamed up with dozens of retailers worldwide to offer reasonably priced CPU and GPU bundles as well as relatively inexpensive gaming PCs. For example, the most affordable gaming CPU bundle is priced at $423, whereas the cheapest PC can be obtained for $899. In the U.S., the systems can be obtained from Amazon (opens in new tab), Newegg (opens in new tab), MicroCenter (opens in new tab), Best Buy (opens in new tab), Costco (opens in new tab), CyberPower (opens in new tab), MAINGEAR (opens in new tab), and NZXT (opens in new tab).
It is noteworthy that Intel has been offering its CPUs with optional discrete GPUs for a while in the notebook space, enabling partners to deliver higher graphics performance and continue to use Intel's drivers without rigorous configuration testing. The company has taken a different approach with desktops and never advertised combinations of its CPUs and GPUs.
Perhaps that happened because Intel's Arc graphics cards suffered from various teething problems. As a result, Intel likely wanted to fix its drivers and maximize the performance of its GPUs first and only then kick off marketing initiatives designed to increase sales volumes of its graphics cards, which is the right thing to do. The CPU giant claims that since launching the Intel Arc A750 and A770 graphics cards several months ago, Intel has introduced numerous performance updates, including a 43% increase in FPS for games like CS:GO and support for 42 new games. Perhaps, this is why the company is now confident that it is the right time to start a marketing initiative to sell as many desktop Arc graphics cards as possible.